Venezuelans turn to bitcoins to bypass socialist currency controlsGirish Gupta
Reuters
| Oct. 8, 2014 |
Caracas, Venezuela
Tech-savvy Venezuelans looking to bypass dysfunctional economic controls are turning to the bitcoin virtual currency to obtain dollars, make Internet purchases—and launch a little subversion.

Two New York-based Venezuelan brothers hope this week to start trading on the first bitcoin exchange in the socialist-run country, which already has at least several hundred bitcoin enthusiasts.

Due to currency controls introduced by late president Hugo Chavez a decade ago, acquiring hard currency now means either requesting it from the state, which struggles to satisfy demand, or tapping a shadowy black market. Even small dollar transactions are out of the question for most Venezuelans.

While President Nicolas Maduro makes frequent tirades against black market traders, whom he sees as part of the "economic war" on his government and the reason for inflation and shortages, he has never said anything about bitcoin. The government declined to comment on bitcoin policy.

That has created a gray market for bitcoins, a digital currency which is not governed by a central bank or controlled by a single source. Bitcoin values have soared and fallen in the last year as a popular exchange, Mt. Gox, collapsed and some developed countries began to mull bitcoin regulation. In Venezuela, using bitcoins can carry a scent of subversion.

"Bitcoin is a way of rebelling against the system," said one bitcoin trader, Caracas-based software developer John Villar, 32, who discovered the usefulness of bitcoin when he wanted to buy a $10 cellphone battery on Amazon.

Unable to pay for it in dollars, he bought bitcoin off a friend using local currency. He then used the bitcoin to purchase an Amazon gift certificate, with which he bought the battery.

Gerardo Mogollon, a business professor who styles himself as 'Dr. Bitcoin Venezuela,' speaks at conferences and appears in online videos to urge Venezuelans to adopt the currency.

"I'm teaching people to use bitcoin to bypass the exchange controls," said Mogollon, a 42-year-old professor at the University of Tachira's graduate business school.

Currently, bitcoin trading in Venezuela is between enthusiasts who use internet forums and social media to make ad hoc deals.

Venezuela-born brothers Kevin and Victor Charles, now based in New York, are this week hoping to open the "SurBitcoin" exchange, which will match bitcoin buyers and sellers online.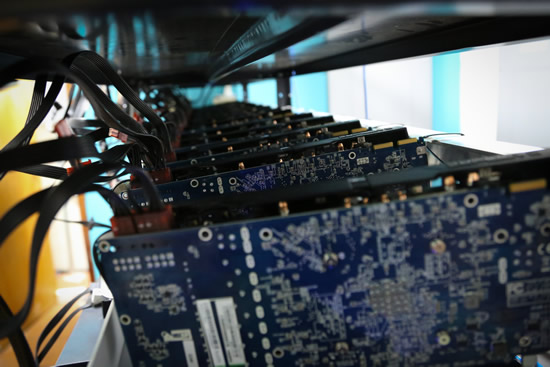 Photo: Girish Gupta


HIGH VOLATILITY

The price of a bitcoin price has dropped 70 percent to under $350 from a peak last November, illustrating one risk of the digital currency. But Venezuela's own bolivar currency has dropped nearly 60 percent versus the dollar on the black market here in the last year. And a black market dollar costs 16 times more bolivars than the strongest Venezuelan government rate.

"Even though bitcoin is volatile, it's still safer than the national currency," said Kevin Charles, 22, who has just completed an economics degree in neighboring Colombia. Many convert the bitcoin immediately into dollars, in any case.

One of the difficulties of the new exchange will be finding a supply of bitcoins. One hope is that expatriates will use the exchange to send money home, selling bitcoins for bolivars.

Another answer is for Venezuelans to make their own bitcoins.

There are currently more than 13 million bitcoins in existence worldwide, worth nearly $4.5 billion, according to the popular Coinbase trading platform.

New bitcoins are generated by a process known as "mining", in which computers solve complex problems.

Running high-end computer systems takes a lot of electricity, which is a competitive advantage for Venezuelans. Bills that could run to hundreds or thousands of dollars a month in the United States would amount to dollars for the same amount of power in Venezuela, thanks to government subsidies.

In a heavily air-conditioned Caracas home, one miner surrounds himself with specialized equipment which cost thousands of dollars. He asked not to be identified for fear of theft.

"In Venezuela, we have a gold fever: a bitcoin fever!" he said.

Editing by Brian Ellsworth, Andrew Cawthorne and Peter Henderson.