Bush, Cheney banned from Venezuela
| Mar. 4, 2015 |
Caracas, Venezuela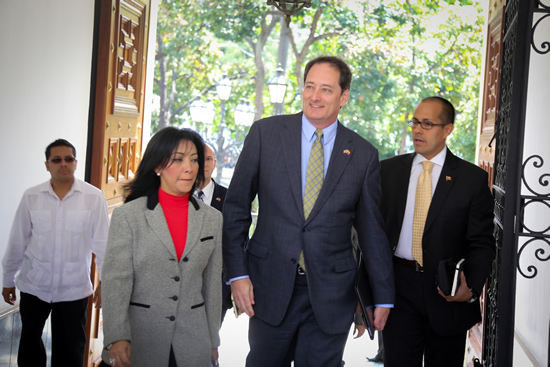 Photo: Girish Gupta

Published by USA Today

As Venezuela's currency collapses, shortages of necessities grow and inflation worsens, the government seems to be trying to take people's minds off the chaotic economy by focusing on a tried-and-tested villain: the United States.

In the past week President Nicolás Maduro has accused the U.S. of attempting a coup, ordered the U.S. Embassy staff slashed from more than 100 to 17, barred Americans from visiting the country without a visa and — for good measure — issued a ban on visits by former president George W. Bush and vice president Dick Cheney for committing "terrorism and grave human rights violations" against Venezuela when they were in office. Not that either was planning a trip here.

"President Obama, your staff at the embassy are conspiring to overthrow my government. I have the proof," Maduro told a crowd of supporters last weekend, though he has yet to offer that proof. State Department spokeswoman Jen Psaki called the allegation "baseless."

Critics see the U.S. bashing as a transparent and familiar political tactic to distract Venezuelans from the country's worsening economic problems and halt the slide in Maduro's approval ratings, now in the low 20s.

Elected in 2013 after the death of iconic President Hugo Chávez, Maduro has continued his predecessor's socialist and anti-American policies but has failed to match Chávez's charisma or popular support even though he was the late president's hand-picked replacement.

"The economy is the problem. I have to stand in line all the time," complained Maria Silva, 61, a housewife lining up with hundreds of others at a supermarket here.

Long lines have become routine in this capital. The currency's value on the black market has fallen 20% in the past week alone, inflation is running at close to 70%, and shortages of basic goods that have to be imported — from shampoo to cooking oil — have created supermarket lines that at times run in the thousands.

"This government realizes it's losing so Maduro is doing everything, legally and illegally, to stay in power," said Elie Vazquez, 30, a hairstylist.

Attacks on the U.S. intensified this week when Foreign Minister Delcy Rodríguez gave the U.S. Embassy 15 days to slash its staff.

In addition, Americans in Venezuela have been harassed. Four North Dakota missionaries were detained for several days by Venezuelan authorities for not having appropriate visas. They were later deported and arrived back in the United States this week. Maduro said a U.S. pilot also had been detained along the country's border with Colombia last week but provided no details.

Bad blood between the U.S. and Venezuelan governments dates back more than a decade. In 2002, the U.S. supported a coup against Chávez that failed after less than 48 hours. Chavez blamed the U.S. for orchestrating it.

"There's a deep set paranoia about the United States," said Charles Shapiro, the U.S. ambassador to Venezuela at the time of the coup. He said Maduro believes the United States is now sabotaging his economic policies.

The root of the economic troubles are currency controls enacted by Chávez in 2003 that have kept the official exchange rate of the bolívar artificially high and have led to a dearth of dollars needed to buy imports. The result has been a black market where the bolívar sells for 36 times the official rate.

The recent fall in oil prices has been a further blow to an economy that relies on oil for 96% of its foreign income.

Maduro, who faces legislative elections later this year, is finding at least some support for his anti-American maneuvers.

"There's a war against this government," said Marco Miraval, 77, who sells coconuts on the street. "These shortages are not due to the government. It's because they're being sabotaged by this economic war, primarily due to the U.S."