Shortages push some Venezuelans to queue overnight for foodGirish Gupta
Reuters
| Aug. 13, 2015 |
Maracaibo, Venezuela
As dawn breaks over the scorching Venezuelan city of Maracaibo, smugglers, young mothers and a handful of kids stir outside a supermarket where they spent the night, hoping to be first in line for scarce rice, milk or whatever may be available.

Some of the people in line are half-asleep on flattened cardboard boxes, others are drinking coffee. Almost all are bemoaning their situation.

With shortages of basic goods and looting on the rise, more Venezuelans say they are resorting to nighttime waits in front of closed stores.

"I can't get milk for my child. What are we going to do?" said Leida Silva, 54, breaking into tears outside the Latino supermarket in northern Maracaibo where she arrived at 3 a.m. on a recent day.

The food shortages in Venezuela, a major oil producer, stem from currency controls that restrict the availability of U.S. dollars for imports. Lower oil prices, a recession and rampant inflation have further darkened the economic outlook.

The Information Ministry did not respond to requests for comment.

There have been scores of looting attempts this year, fueling fears of worsening scarcity. Several states banned nighttime queues earlier this year, at times citing problems with crime.

"I'm scared, of course, but it's the only way we can eat," said Ofenia Gonzalez, 46, spending the night outside a supermarket in the hopes of finding food for her nine children.




SMUGGLERS SWARM STORES

Soldiers with riot shields, tear gas canisters and rifles patrol lines in Maracaibo, a major city in the northwest.

Scarcity is particularly acute here because smugglers - taking advantage of the leftist government's policy of fixing prices on some goods - buy products to sell for profit in nearby Colombia.

"We have to maintain control otherwise there would be chaos," said Lieutenant Carlos Barrera, 21, pushing back crowds at one supermarket.

Smugglers known as "bachaqueros," after a large leaf-cutter ant, are ubiquitous in nighttime queues. Working in groups, they swarm stores when goods arrive.

Some of those waiting in line in Maracaibo readily identified themselves to Reuters as smugglers.

President Nicolas Maduro, saying smugglers are depriving the poor, has vowed another crackdown. "What's a bachaquero?" he said during a speech on Tuesday. "It's a human being turned savage."

While there is resentment toward resellers in queues, more than 60 percent of Venezuelans blame shortages on the government, according to pollster Datanalisis.

"We want change. We need this government to collapse," said Yanet Moran, 19, after five hours queuing in the dark.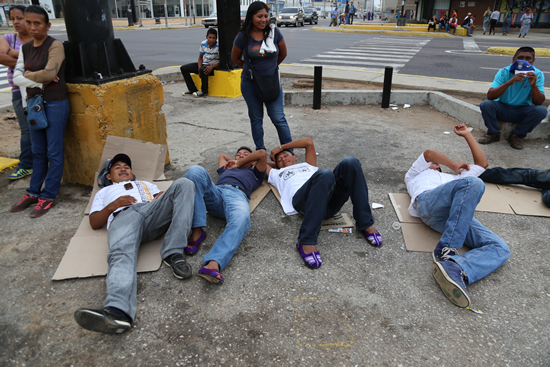 Photo: Girish Gupta


Additional reporting by Isaac Urrutia. Editing by Alexandra Ulmer and Frances Kerry.