Venezuela opposition attacked as they seek progress on Maduro recall
| Jun. 8, 2016 |
Caracas, Venezuela


Published by Reuters

A group of Venezuelan opposition lawmakers said on Thursday government supporters attacked them as they tried to enter the electoral board headquarters to press their demand for a recall referendum against unpopular socialist President Nicolas Maduro.

National Assembly majority leader Julio Borges said 10 lawmakers had been allowed to enter the premises to demand the agency speed up verification of signatures for the referendum, but that a National Guard general then ordered they be pushed towards militant pro-government groups called "colectivos."

The Information Ministry did not immediately respond to a request for comment.

The Supreme Court has blocked protests near the board, citing security concerns following violent demonstrations.

Tension is rising in Venezuela as a severe economic crisis fuels protests over chronic food shortages and marches to demand Maduro's departure.

A video tweeted by opposition lawmaker Marialbert Barrios showed a group trying to enter the building by crossing a barricade of security forces, who pushed them back using what appeared to be pepper spray.

A photo taken by French wire service AFP appeared to show a man hitting Borges with a pipe.

"The colectivos acted with total impunity - they had pipes, motorbike helmets, rocks, explosive artifacts, and they used them against us," Borges told journalists as blood dripped from his nose and mouth onto his shirt and jacket.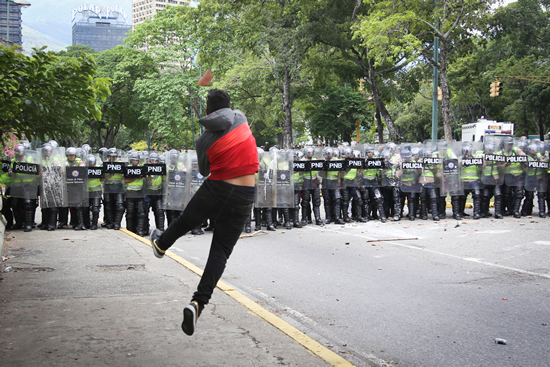 Photo: Girish Gupta


HUNGER, ANGER

Hundreds of students protested in Caracas on Thursday, with some throwing stones and Molotov cocktails at security forces.

"We're not here for any political party; we're here for the Venezuelan people. People are hungry, people are angry," said Rafael Torres, 19, an economics student.

Venezuela's opposition, riding the wave of public ire over the crisis, won control of the National Assembly in a December election but says the election board is under the sway of the government and is dragging its feet on the referendum.

Government officials have said there is no time this year to organize the vote. If Maduro lost a referendum in 2016, a new presidential election would be held, but if he departed in 2017, his vice president would take over.

Maduro, 53, says the opposition is seeking a coup with help from the United States, but opposition leaders scoff, saying it is the government, the military and grassroots militants which are turning increasingly violent.

In a recent protest, a security official pepper-sprayed opposition leader Henrique Capriles in the face.

Additional reporting by Brian Ellsworth and Daniel Kai; Writing by Alexandra Ulmer; Editing by W Simon and James Dalgleish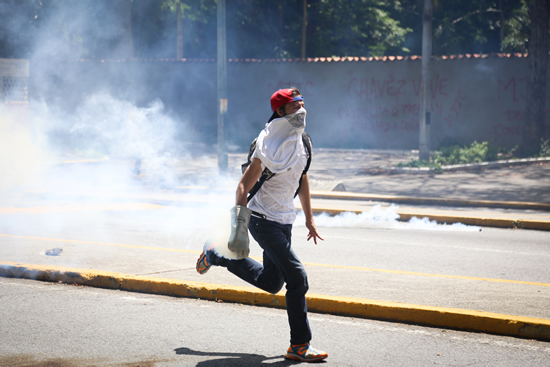 Photo: Girish Gupta